Pasuuna 2022-23
Place: Transferred to Tuusula 2022-23
Material: Laser cut stainless steel
Size: 6000x3000x2500 mm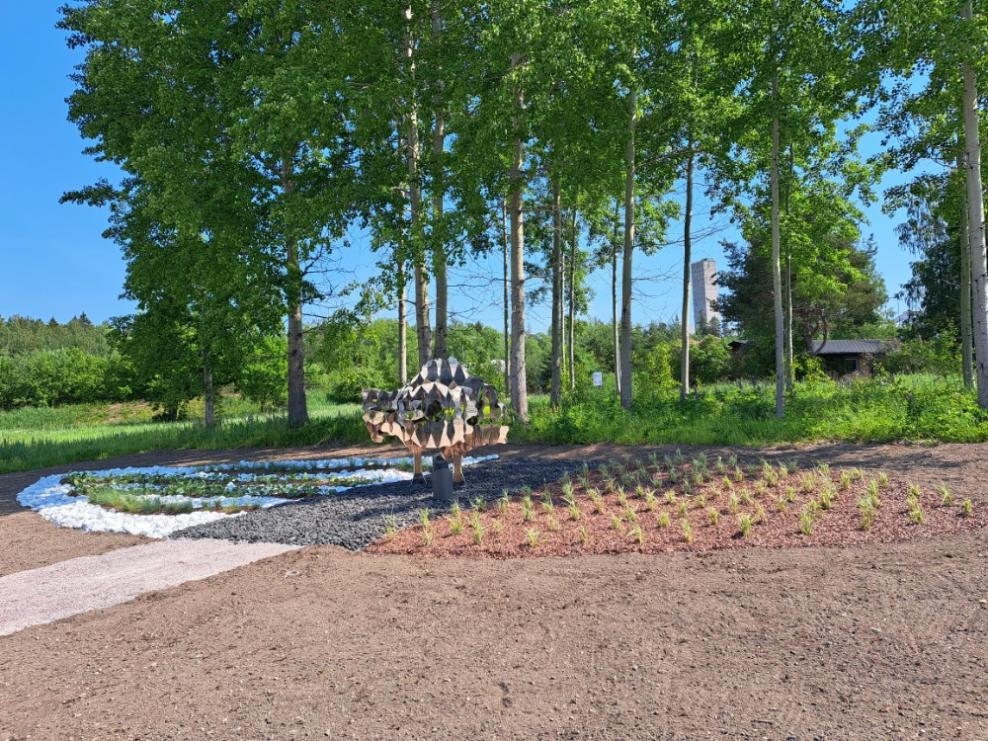 Hiisi 2022
Place: Lohja City
Material: Stainless steel
Size: 2800x1700x1000 mm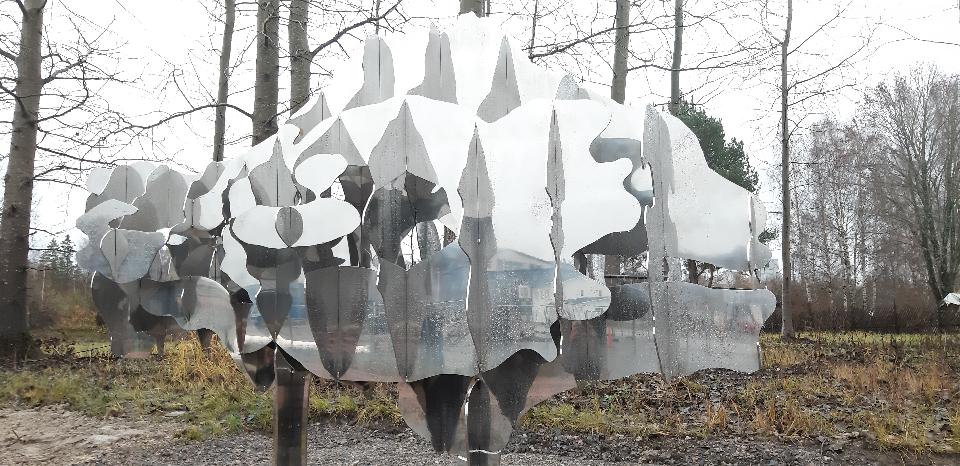 The Hiisi sculpture got its idea from old Finnish folk tales. Hiisi was once a place of worship or a spirit being.
In the Hiisi sculpture, the human face stretches and becomes fish-like. When viewed from the side, the sculpture is like an archipelago, from the back it looks like a fish and from the front it looks like a human face or scull.
The body of the sculpture consists of overlapping laser-cut steel sheets. Mirror-polished steel plates form a visual labyrinth. In the water, the fish's scaly surface is sometimes streamlined and inconspicuous, sometimes sparklingly beautiful.
Skydiving 2021
Place: Växjö City Hall and Central Station, Atrium
Material: Laser cut plywood and stainless steel
Electric rotation motors and winches
Size: 3 x 7000x1500x1500 mm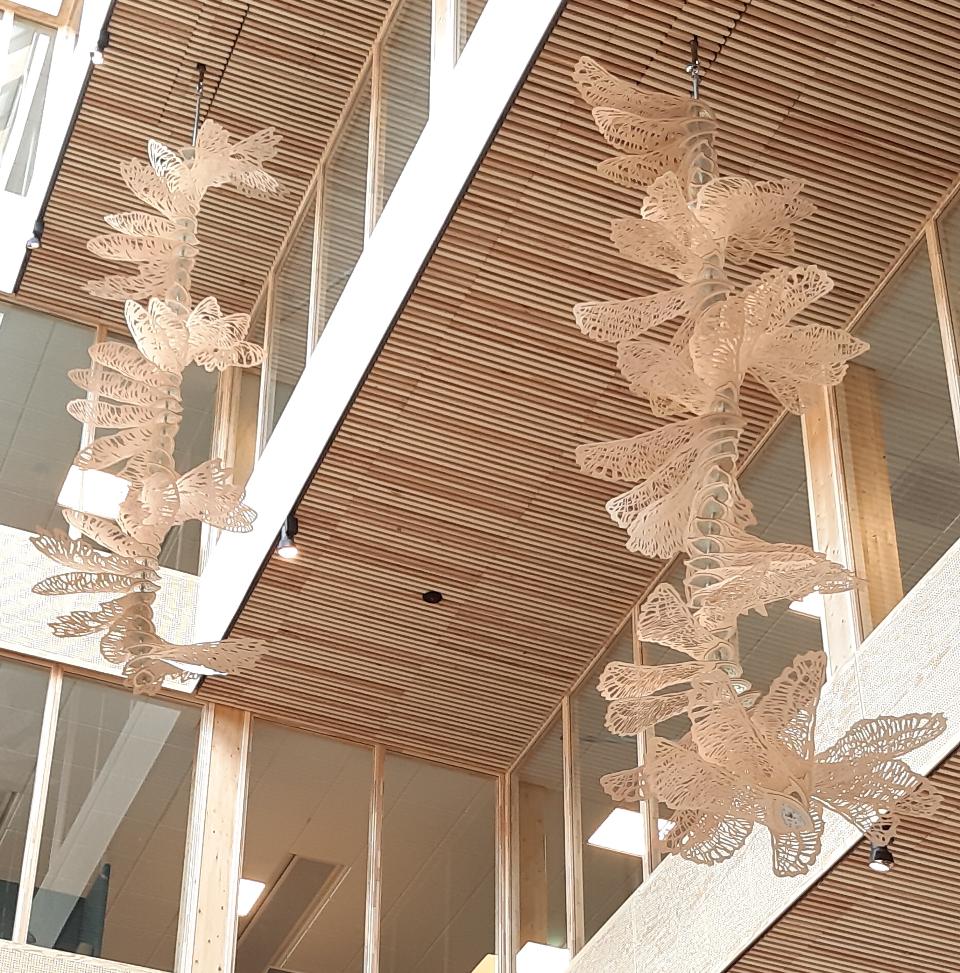 The Skydiving sculptures are rotating through the air in the Växjö City Hall and Central Station. Mable seeds jump down boldly from mother tree and fall in spiral formations. Tree spiral sculptures materials are laser cut plywood and stainless steel. Sculptures are rotating by electric motors and can be lifted with electric winches.
Dew 2018
Place: Satakunta Central Hospital
Material: Laservcut stainless steel
Size: 3500x3000x3000 mm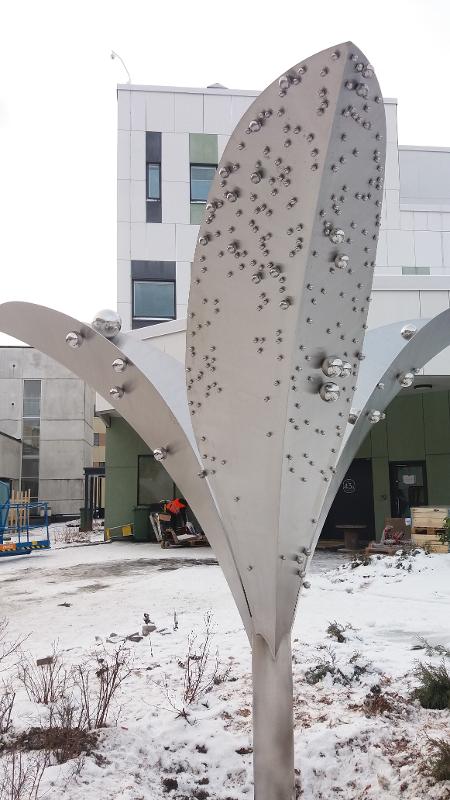 The Dew sculpture is located in front of the H-building of Pori Central Hospital.
The H-building houses the obduction department where medical autopsies are performed
and deceased are given to their relatives. The Dew sculpture honors grief of relatives. The sculpture
mimics moods of Japanese haiku presenting emotions of loss through the imagery of nature:
Like sleep to sleep
I was born into the world
and the mind is so light:
like morning dew
I will one day disappear.
Musô Soseki 14th century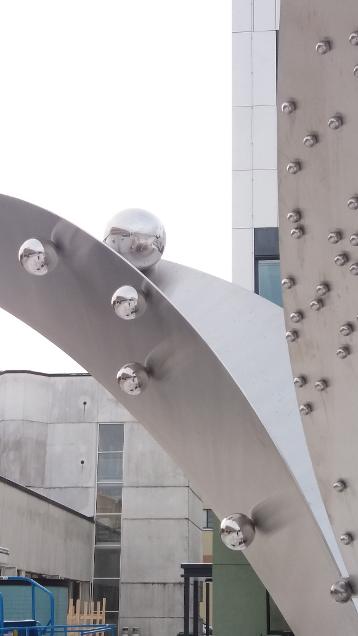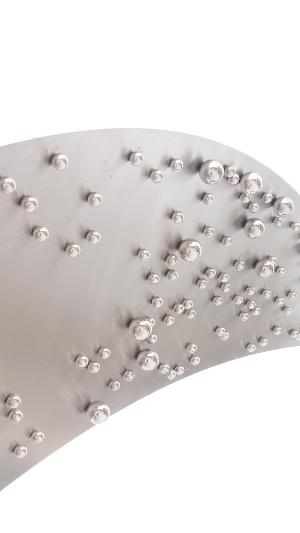 Parkour 2017
Place: Vuores, Tampere
Material: Aluminum
Size: 200x150x250 mm
The Parkour sculptures are located outdoors in the Vuores area in the city of Tampere. The idea for the sculptures is in parkour training. In parkour one can use environments possibilities for movements and obstacles are seen as challenges. Parkour reveals our spiritual and physical boundaries and offers new ways to overcome them. The Parkour sculptures were 3D modeled using human silhouettes. 3D printing material was bioplastic PLA and cast to aluminum.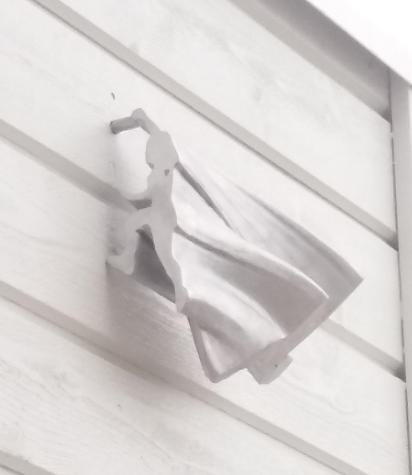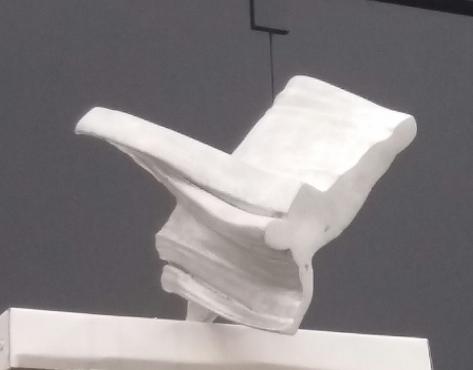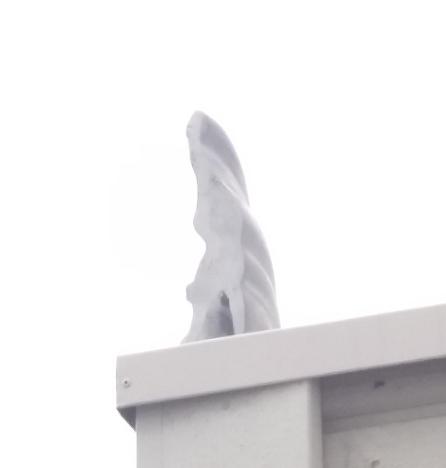 How do Leaves Breathe? 2013
Place: Naantali
Material: Laser cut stainless steel
Size: 1400x1600x810 mm